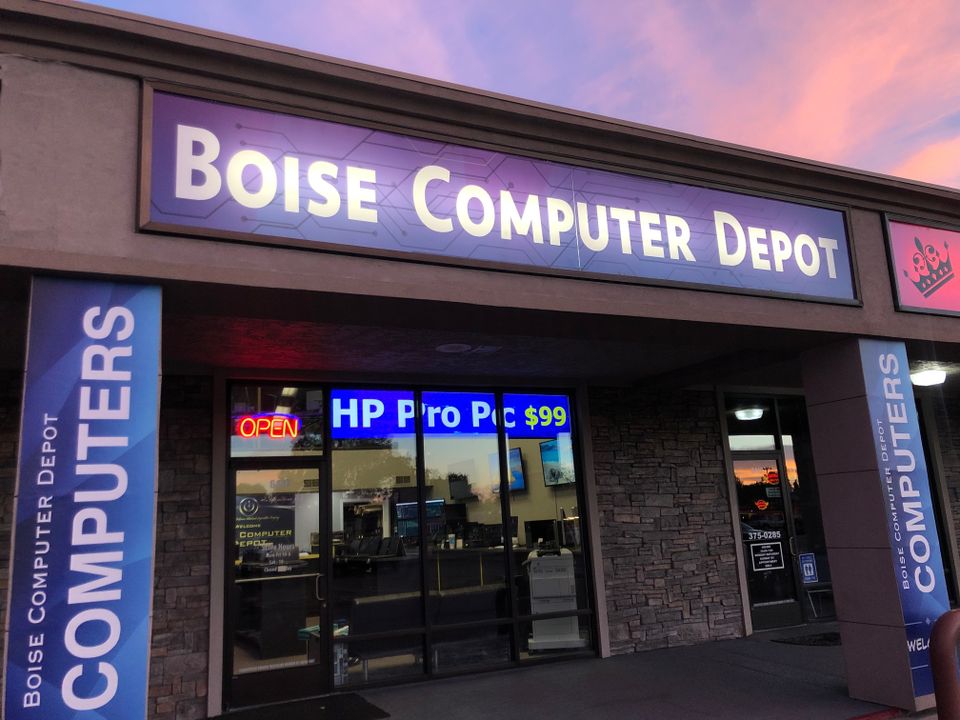 With over 13 years of serving Boise, Meridian, and surrounding areas in Idaho,

Boise Computer Depot

has gotten a lot of feedback about our business. Here's a sampling of what our clients have to say.
"This place made it easy on me. They put together the right package to meet my requirements for the system that more than met the needs of my employee. A slick, touch screen laptop with an impressive monitor. Be sure to get the extended warranty, like I did. I recently revisited the store, and noticed appealing deals on [computer] accessories like keyboard & mouse combos. There's always something new to look at and explore at Boise Computer Depot."
"I'm not computer savvy, and I love the great service from BCD's technicians. Very pleased after purchase of high-quality used laptop with upgraded processor and additional memory. Small shop vibe is opposite of impersonal big-box superstores, and their prices are unbeatable!"
-Cecilia M.
"Dreaded going to

buy computers

 for two different end users. Before heading to big brand companies (to waste half a day and at the end just be somewhat satisfied with my purchase), I stopped at Boise Computer Depot. Nailed it! Best buying experience for computers!!! Dustyn was incredibly knowledgeable and listened to what each end user was looking for. I walked out of there feeling really good about the price I paid for each and knowing I have a go-to place for any future computer needs."
-Chris K.  
"Have been dreading getting my computer fixed since my hard drive died
but it was cheaper than I expected and Garrett was very helpful. Only took 3 days for them to fix it."
-Katie D.
"Very informative and competitive pricing on computers. Very competitive on bench work, parts and maintenance on computers. Staff is really friendly and willing to give you what you need but not sell what you don't need. Two thumbs up."
-Daniel H.
"I brought our work computer
in since it crashed. Turned out it was a bad drive. They were able to get a new drive in and get our files from the old drive and transfer [data] to a new hard drive. They even stayed open for me when I [was] still having issues with getting access to the file. I would definitely recommend them to anyone. Thank you so much guys!!!!!"
-
Kathy J.
"Appreciate the

knowledgeable, caring

service
! Two laptops in for repair--one turned out to be a simple fix (no charge--so nice), and one ended up needing replaced, but they stayed late to get the replacement all set up. Ended up with two working laptops within our original budget. Thank you!"


-
Pamela H.
"Went to Boise Computer Depot to get a couple computers wiped clean
and transfer of information. They were very helpful and informative. Did a great job explaining what the best options would be and taking care of what I needed."
-Ellen F.
"Great prices on computer components and very knowledgeable employees. Glad I bought my

graphics card here."
-Cole D.
Whether you're coming to Boise Computer Depot

 to

buy a new or refurbished computer

 

 (Our quality refurbished computers can't be beat!), or you're coming to us for home or business computer

repair

,

or you have data to be recovered and computers to be

recycled

 

with the most exacting security precautions, we're here for you. Our clients have been leaving us fantastic reviews for years, and we're proud of the honest, professional services we provide. Come visit us and see for yourself!